I know I promised that I would be posting soon about George Washington. Well, that story is going to be a little work to condense and I will get to it eventually. In the meantime, I stumbled across another account that might surprise you. With another famous General.
Robert E. Lee.
The Heagy/Hartzell/Giffin side of the family centers in Adams (formerly York) county Pennsylvania.
County seat: Gettysburg. (In Cumberland township--the blue section on the following map.)
Last year I found a lovely 1858 map of Adams County Pennsylvania that labeled the actual homes of landowner ancestors Samuel Hartzell and David Heagy Sr. (Samuel Hartzell and David Heagy Sr. are the fathers of Ann Hartzell and David A. Heagy (Jr.) who married before the war began. David and Ann Hartzell Heagy are the great-grandparents of my grandpa, Ebert Heagy.) They are located northwest and north of town as "S. Hartzell" and "D. Hagey." Well, of course I immediately checked the Gettysburg National Park maps to see how their home locations compared with the battlefield. They don't really match up; the battle being more southwest of town. So, I didn't think much more about it and moved on to other projects.
However, just recently while researching someone else, I
did
come across some amazing info on Samuel Hartzell and the two Heagy Davids, records that shed a pretty bright light on this infamous place and time in history and how our family was affected. (The Heagy account will be covered in a companion article someday soon.)
Note: I'm tickled that this is also my second story for Storyapples that takes place in an apple orchard!
This picture shows a replanted apple orchard in 2010 that, according to the blog
GettysburgDaily.com
, "in July of 1863 was owned by a farmer named Samuel Hartzell." If their claim is true, the orchard did not immediately border Samuel's home (at least, if he stayed in the same home as in 1858). Instead, this orchard is just south of the Chambersburg Pike, one of the main roads into Gettysburg. (on the map, it's to the west of town, just under the dotted line railroad. The orchard would have lain somewhere just south of the Thompson homes, if I'm understanding the story correctly).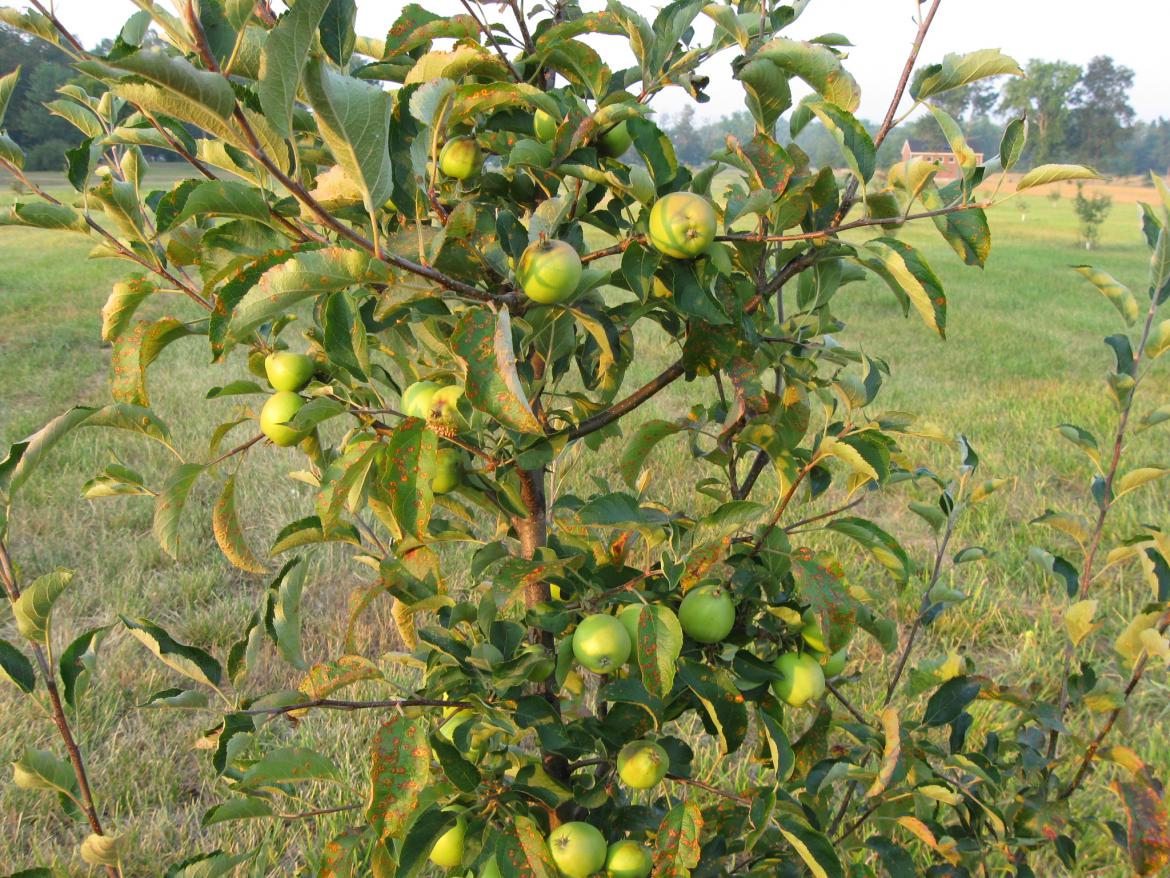 This picture, also from GettysburgDaily.com, was taken July 6th--one of the days of the Battle of Gettysburg--so the apple crop would have looked about like this (but the trees were probably more mature).
So, what's so interesting about this particular orchard, owned by Samuel Hartzell (age about 49) in 1863? Well, if you were to visit this orchard today (and man, do I wish I could go someday), this is what you would see.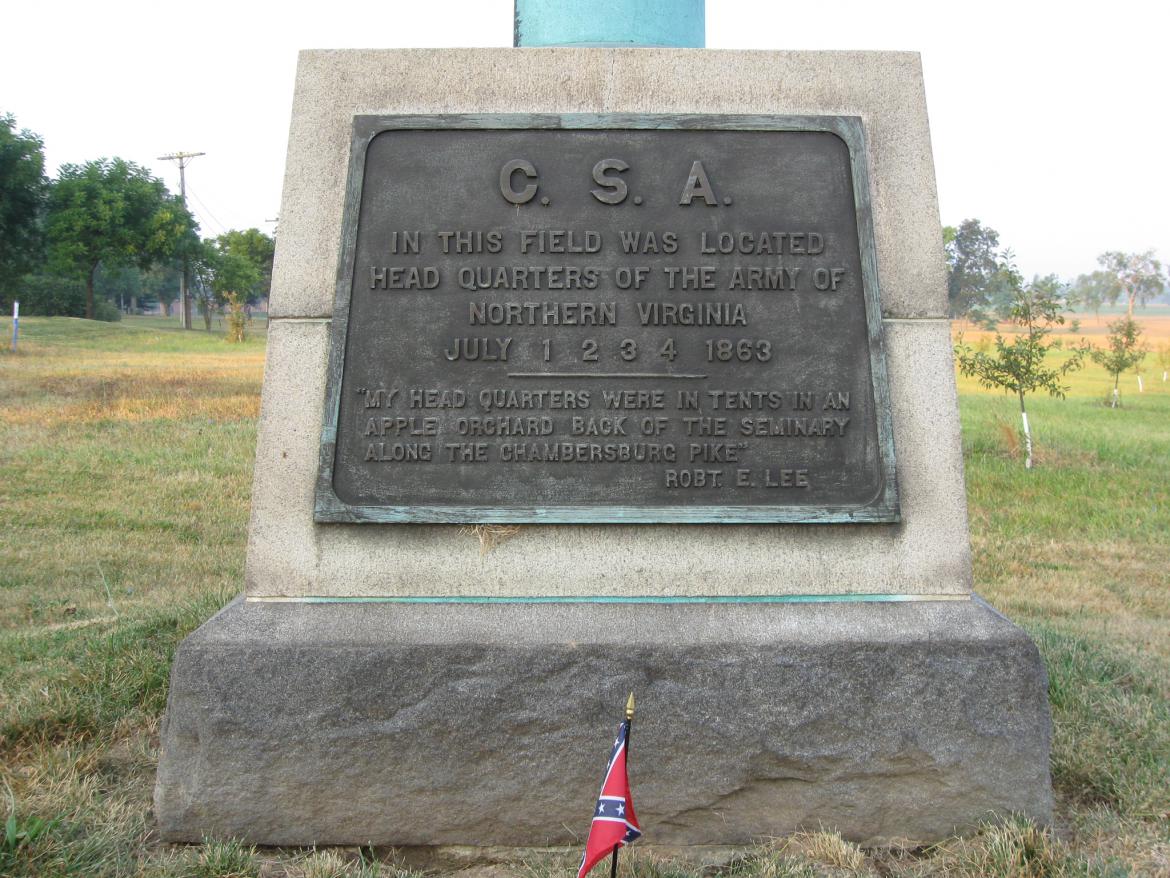 Disclaimer: The GettysburgDaily.com article says that this quote by Robert E. Lee may be bogus, but historians are pretty sure that the location is right, anyway. Also, remember, this is and was an apple orchard, not the famous "Peach Orchard" battle site. There were several orchards in the area.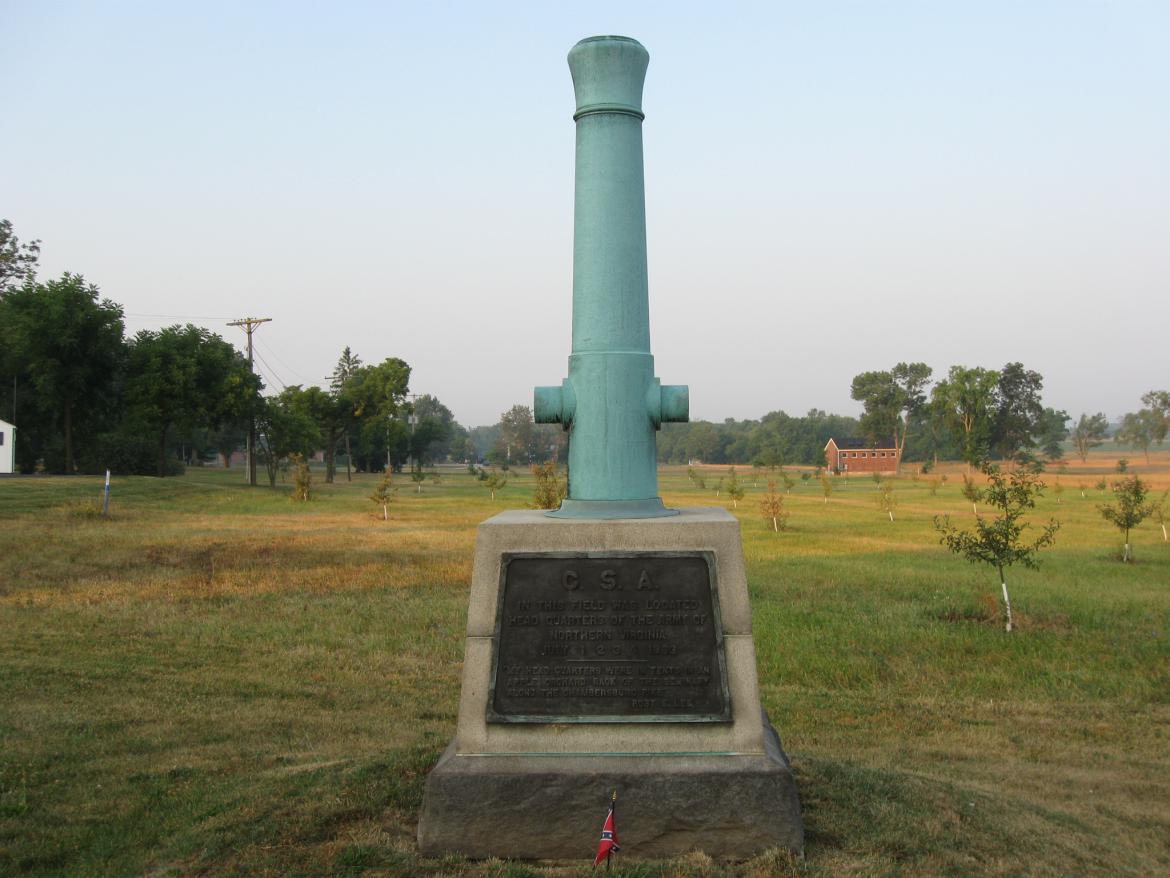 The brick building in the background is the seminary building belonging to "Seminary Ridge." This picture is facing south.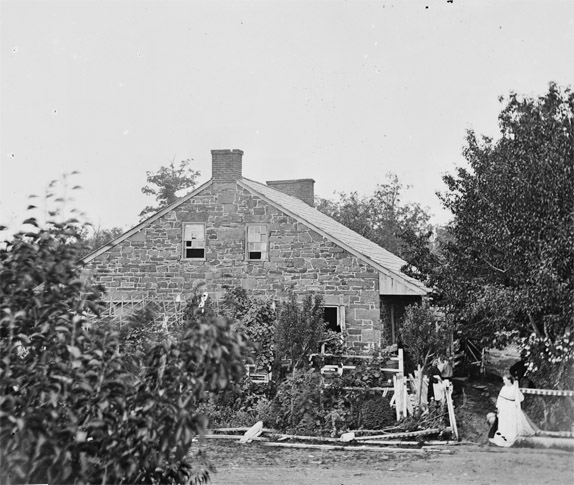 This is the Thompson house just north and of and across the road from the orchard. (The tree in the foreground is part of the orchard). This picture was taken sometime around the battle, July 1863, by famous Civil War photographer Matthew Brady. This house is still standing and serves as a museum/bed and breakfast as "Lee's Headquarters" since Lee purportedly slept and ate here. Notice those knocked down fences? We're getting to that.
The Battle of Gettysburg was fought the first few days of July 1863. About 165,000 soldiers had converged around this little town, with about 50,000 casualties, the highest number of casualties for a single battle in the war. (Luckily for my family, there was only a single civilian casualty). It was also a major turning point for the Union. The war moved on, and the poor townsfolk were left with the destruction, a really big cemetery, and a visit from Pres. Lincoln. Recovery must have been a huge endeavor. No FEMA to call in 1863!
Or was there?
Not in 1863. And definitely not from the extremely busy Federal Government. But it turns out, in1868,(three years after the war was over and five years after the Battle of Gettysburg) the great State of Pennsylvania began to pass a series of acts designed to recompense civilians who sustained damages to property and goods during the war. In other words, some help came in the form of dollar signs, even if it was slightly delayed.
Nothing improves people's memory like a promise of some cold hard cash! Claimants could come to court, tell a bit of their story, leave an inventory of damages and their best estimate of how much they thought they should get. They also brought witnesses to sign affadavits, etc. Lucky for us, Ancestry.com has digitized these court records and we can find out what happened to Samuel Hartzell during the Battle of Gettysburg.
The petition of Samuel Hartzell, declares that he was a resident of Cumberland Township (includes Gettysburg) in 1863 and that "he sustained loss and damage in his property...the amount of damage sustained...which he prays may be allowed to him as follows, viz:" then Samuel gives his statement.
"That the Rebel Army occupied my farm for two or three days, that during that time they took from me the following property, viz:
One wagon & bed worth $70
A Skep of Bees
13 Sheep " 45.50
3 Heiffers " 54
1 Scap of Bees " 10 [a "skep" of bees is a traditional straw beehive, as pictured.]
3 Hogs " 24
2 Scythes & Cradles " 8
3 Tern(?) of Hay " 30
4 Sett Horse Gears " 30
Corn & Oats in Barn " 14
829 Rails " 66.32
2 Colts 16 months old " 100
35 Acres grass destroyed " 150
2 Shovels and Mattock " 3.24
Mattock
also his meadows and fields were damaged to the amount of $25.00
Samuel was awarded $605.10, not quite the full $630 because the court ruled "The damage to meadows and fields as claimed ...is disallowed."
I wish that Samuel would have told a little more of what he was doing on those days, but he did have two witnesses give depositions to support his claim, and from there the picture becomes a little livelier. One witness was next door neighbor David Schriver. Mr. Schriver is on our map, so I am sure that Samuel was in fact living in the same house in 1863 as in 1858. Mr. Schriver stated to the court that: "
he lives on the adjoining farm to Samuel Hartzell, that about the beginning of July part of the rebel Army occupied the farm of Samuel Hartzell. I was acquainted with the property mentioned in the appraisement and know that it was on the farm before the Rebels came and that it was not there after they left. I saw the Rebels on his farm and know that his Rails were destroyed & the grass of his meadows destroyed. I saw them burn the Rails. I put out the fire near the Barn, and that the appraisement made of the property destroyed & taken is not too much.
"
22 Oct 1868
David Schriver
I thought the "is not too much" was kind of a thoughtful phrase. I also wondered about the money for the fences. Did the fence belong solely to Samuel? Or would he have split the cost with his neighbors? Apparently not. I would assume that the rails were burned for firewood, but the fact that the neighbor had to put out a fire near the barn makes me wonder if the soldiers were just being destructive. Did you notice those rails removed and scattered on the ground in the picture of the stone house? Those would have been across the road from his orchard, but I'm assuming the soldiers did the same thing to his property. Here is another picture by Matthew Brady of that same property. This time, taken from deeper inside Samuel's orchard. Notice, these were probably some of the missing rails that he counted in his inventory. I think it's interesting that the soldiers left the posts. They must have been buried well.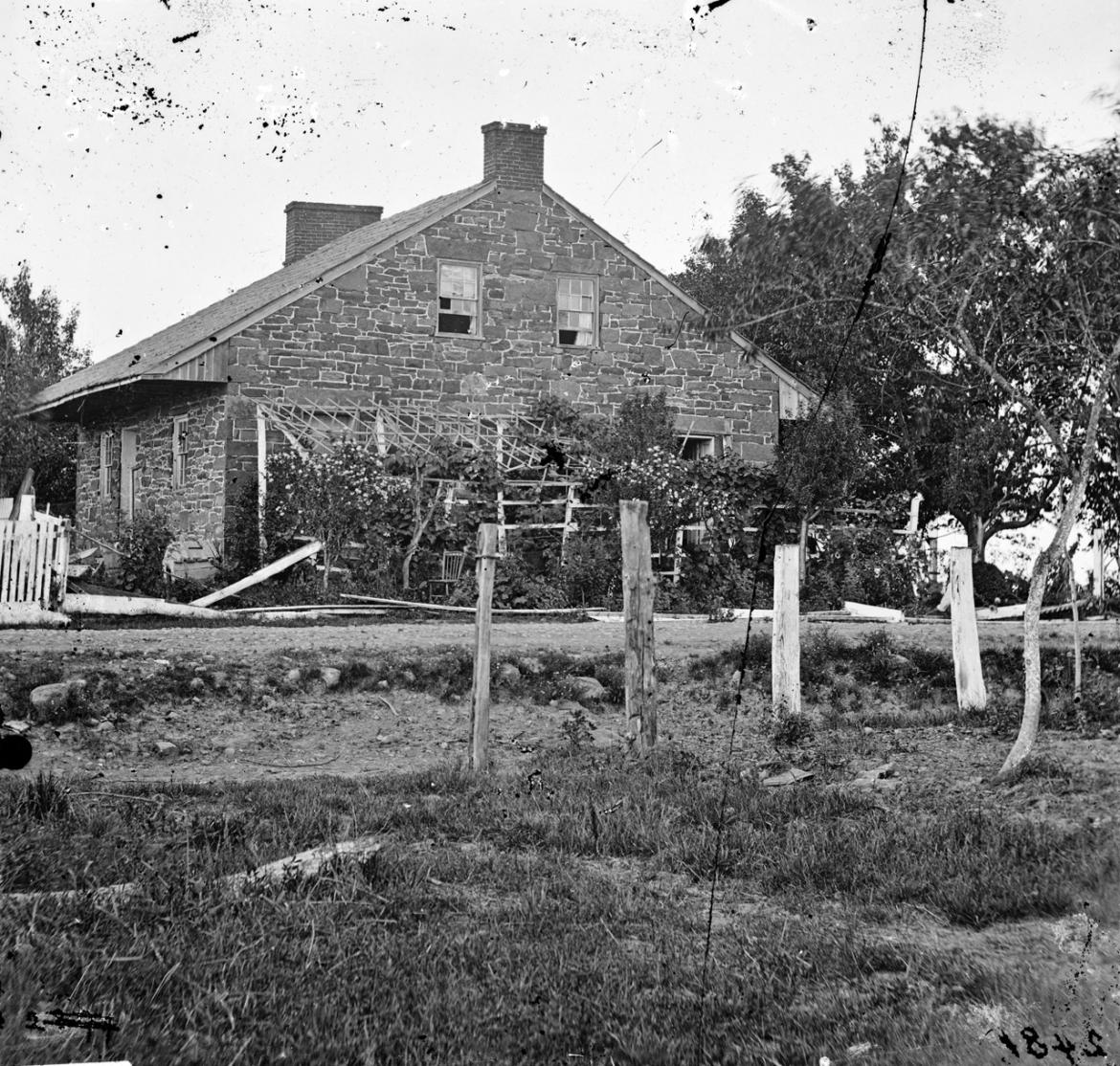 Another view of the Thompson house, taken from Samuel Hartzell's orchard (Lee's headquarters).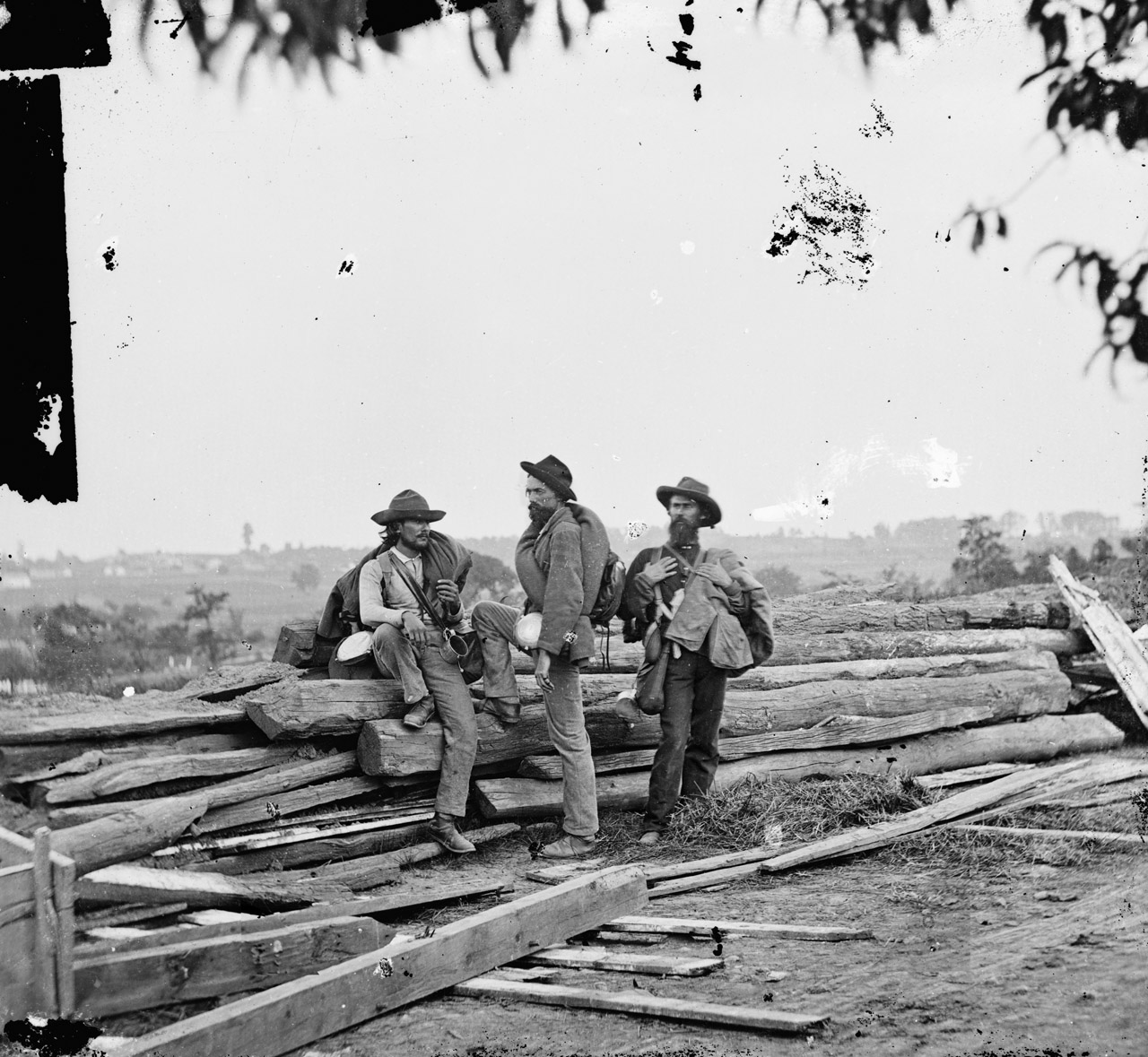 This picture, also by Matthew Brady, is one of the most famous shots of the Gettysburg aftermath--I actually have seen this one before, probably in textbooks or on Ken Burns' The Civil War. The subjects are three Rebel prisoners. Notice what the ramparts they are sitting on are made of? Logs and fence rails! Guess where this picture is taken. Yup. Right outside of Grandpa Hartzell's orchard, overlooking Seminary Ridge.
According to the list of damages, the fence rails weren't worth all that much, but for some reason they seem like the heart of this story. Think of all that work! As a farmer's daughter, I can picture the farmer going out to assess the damage after a bad hailstorm, estimating acres destroyed and dollars lost. Samuel did just that. His friend William Allison also swore before the court "That [Samuel] & John Hamilton shortly after the battle examined the farm & made an appraisement of the Damages. That they found the Rails destroyed & 35 acres of grass destroyed and the fields injured as above mentioned". I imagine Samuel walking his fenceline with his friend and counting the missing rails, one by one.
Portrait of Samuel and either his second wife Eliza or his 3rd wife Elizabeth.
All things considered, the battle could have been much worse for him. His family was safe. His house was still standing (and his neighbor saved his barn from burning, although it sounds like there wasn't much left to put in it!). His son-in-law David Heagy was soldiering elsewhere and probably saw less actual warfare than Samuel did. His eldest daughter Ann, although extremely pregnant during the battle with Samuel's first grandson and living without her husband but with one small daughter, was able to take refuge with friends of the family and safely deliver my great-great grandfather a couple of weeks later.
Samuel did lose a son, Elias Hartzell, age 23, in 1865, nearly two years after the Battle of Gettysburg, but I haven't yet researched if Elias was a casualty of war.
I also double checked my battle info on Wikipedia and found this battle map that explains why even though most of the well-known sites of the Gettysburg battle were south of town, as is the State Park, in real life, the enemy soldiers completely surrounded the Hartzell and Heagy properties northwest of town (as well as the apple orchard), and that there was actual fighting in that area the first day of the battle. That surprised me. I guess I always pictured the Southern forces attacking from, I don't know, the South? Rebels shown here in red, Union in blue.
I noticed that there was no mention of destruction to the apple trees on Samuel's claim, and the trees in the photographs looked fine. It's too bad--I was hoping someone down South owed me a pie.
If you would like to read the two articles about Lee's headquarters by GettysburgDaily.com, they are found here.
part one
part two